CIP- anlæg (Cleaning In Place)
CIP systems are designed to automatically clean and disinfect complete process systems or pipelines without the necessity of having to open or disassemble them. During the cleaning process all surface areas which have been in contact with the product are washed with cleaning agents which are circulated through the plant with a high velocity.
Influx has more than 16 years experience in the designing of CIP systems in close cooperation with the customer and their specific requirements. We are always able to adapt the system to an existing production facility, so that the customer can be assured of the most rational, hygienic and reliable solution and one that lives more than up to the requirements from the food industry and the public authorities.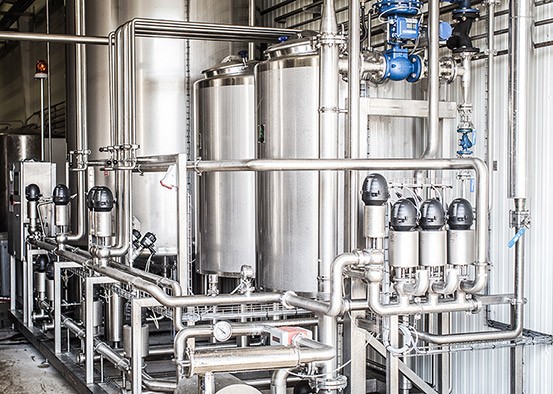 3 types of CIP installations
Single of use system
This plant is recommended for smaller processing plants that are heavily soiled or to processes where a cross contamination is not desirable.
Re-use system
This type of CIP system is being used in larger plants which are less soiled, so reuse of the cleaning liquids would be beneficial.
Multi-use system
This type of system combines features of both the single- and re-use systems. It is designed to clean pipes, tanks and other storage devices.
Multi-use systems utilize automatic control programs, with different combinations of cleaning sequences